| | |
| --- | --- |
| | Updates |
Find us on Facebook
(click thumbnail images to see larger pictures)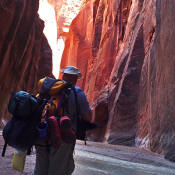 Paria River Redux & KANSAS! Magazine Article
May 14, 2012
Hi All!!

It's been a while since the last photo-adventure update so thought I'd send out a quick note.

Some of you may recall how much I enjoyed a prior backpacking trip along the Paria River. I've been looking forward to doing the hike again for several years and the timing and permit availability finally worked out such that my friend Craig and I were able to make the trip in mid-April. For a brief history of my experience, you can read the previous update here: April 09, 2008

The trip was fantastic! We had great weather and hiking conditions were optimal. The hike is 38 miles from the White House Trailhead which is just across the Utah border near Page, AZ and finished at Lee's Ferry. Lee's Ferry is below and a bit downstream from the Glen Canyon dam (Lake Powell) and is where rafting trips down the Colorado River through the Grand Canyon usually start. Lee's Ferry is also at the confluence of the Paria and Colorado Rivers.

Craig and I spent 4 days hiking the river and added a few miles in side trips to explore up Buckskin Gulch (the longest slot canyon in the world) and to enjoy our lunch by Wrather Arch which I was going to say is one of the largest arches in the world; but it was apparently removed from that list as a result of this data published in 2009 (it's still very cool). http://www.naturalarches.org/big9-5.htm

I've attached several photos from our hike as well as a few from the road trip. There's also a few from Sedona where Stacy and I spent a week after the backpacking trip.
Photo descriptions:
| | | |
| --- | --- | --- |
| | "You go first" - section of the Paria narrows that's wall-to-wall water. That's my buddy Craig. "You go first, so I can get your picture." hee, hee. | |
| | Craig and I at the trailhead. Photo taken by our shuttle driver who picked us up a couple of hours earlier at the Lee's Ferry, 14-day parking area. | |
| | Me in the narrows - photo by Craig as I'm taking photos. | |
| | Good lighting in a section of the narrows. | |
| | "I found these shades in a geocache"... and my wife thinks they should be put back in one. ha! Photo was taken on the last day as the canyon begins to open back up. The river (opaque gray) can be seen behind me. | |
| | Typical part of the trail - this is what the hike looks like most of the way. | |
| | Buckskin Gulch - notice Craig in the pictures. Buckskin Gulch is the longest slot canyon in the world. | |
| | Paria 2012 - me getting ready to head through the narrows. Also known as, "I only wear Crocs when I'm camping." Ha! | |
| | Mingo - small town in western Kansas that is home to the oldest, active geocache in the world. | |
| | Sedona - me playing with the phone app Instragram up on Doe Mountain and along a scenic drive. Fun app to play with but not sure if I'm a fan of their terms of service. | |
| | KC Chiefs - photo taken back in October while at the Chiefs game. It's a merge of multiple photos together. The sky was really cool that evening. | |

Lastly, and most recently, I was very please to get a copy of the KANSAS! Magazine Summer 2012 issue in the mail the other day. I had traded a few messages with them a few months ago but had no idea about the nature of the article or how flattering it would end up. I'm blown away by this (see link):

http://issuu.com/kansasmag/docs/km12su_preview_final?mode=window&pageNumber=4

Hope this message finds you well and looking forward to, or actively engaged in, adventures of your own.

Best regards as always,
Kevin
www.americaswonderlands.com
or on facebook: http://www.facebook.com/pages/AmericasWonderlandscom/151476070836#

AmericasWonderlands.com
Copyright 2011-2012 K. Venator