Post Ice Storm

Kansas City. Jan 2002

Information / FAQ
Our mission and our passion is to capture and convey the wonder of America's beautiful places.
About the photographer...
AmericasWonderlands.com currently displays photographs by Kevin Venator. Kevin is an avid outdoorsman with a passion for hiking and photography.
A note from Kevin: I just wanted to take a minute and thank you for visiting the site. I hope you enjoy seeing the photographs. My passion is to visit these wonderful places, take pictures and share them with you. If I can bring back an image that captures even a hint of how these awesome places make me feel, then I've accomplished something special. I am guilty of being drawn to spectacular scenes. While I enjoy traveling to the many wonderful places mentioned in the site, I am fulfilled if I can come back from these trips with a good photograph. I am especially thrilled if someone else enjoys my work. I always have a list of places to go and things to see while I strive not to overlook the wonderful places close to home. Here's wishing you all many wonderful adventures in the years to come. Happy trails! ;-)
Life is not measured by the number of breaths we take,
but by the moments that take our breath away. - anonymous
| | |
| --- | --- |
| 2003 Photo Christmas Card... | 2002 Photo Christmas Card... |
| The 2001 Photo Christmas Card... | 2000 Photo Christmas Card... |
Kevin first began taking pictures for his high school yearbook and later for the nearby junior college yearbook. After a hiatus of several years, Kevin's interest in photography re-emerged along with a passion for hiking and travel. Kevin now lives in Kansas City and is currently does IT project management work to support his adventures and interest in photography.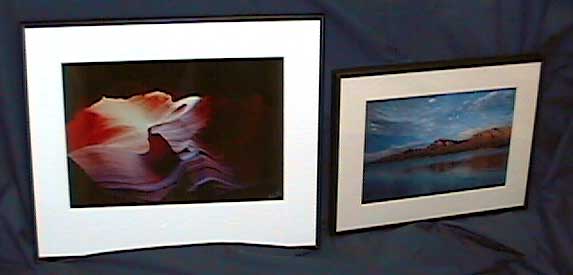 Film & Filters: Most of the photographs in the screensavers and galleries were captured with 35mm slide or negative film. The original slide or negative was then film-scanned to produce the digital images. Film choices include Kodak Ektachrome Elite Chrome Extra Color, Kodak Ektachrome E100VS, Fuji Velvia & Fuji Provia 100F. All are highly saturated slide films which produce superior landscape photographs. Note: in my experience, the Kodak films tend to be more red than the Fuji films which can be good or bad depending on the subject.
Sunlight and moonlight were the only light sources used for all of the pictures except for those taken indoors. Polarizing and graduated neutral density filters were the only filters used in taking the photographs (no colored or effects filters were used). A polarizing filter simply allows light to enter the lens from one direction thus reducing unwanted glare from reflective surfaces like water, brightly colored surfaces (e.g. leaves, rocks, flower petals) and even water vapor in the sky. Depending on the angle of the sun, this can have the effect of deepening colors (e.g. sky is bluer, leaves & rocks are more colorful). Polarizing filters also help remove 'sparkly' reflections from water so the surface becomes more uniform. There are cases when the polarizing filter has little impact. For example, the polarizing filter doesn't do much on cloudy days and in other low light situations. The graduated neutral density filters (i.e. Cokin p120, p121) are useful in holding back bright skies to allow for proper exposure of the foreground.
Note: Many of the newer photographs including those in the Rocky Mountain, Kansas and Kansas City Pictures gallery were taken with my new digital camera.
Some example photos along with a variety of techniques are described on the photography tips page.
Digital Images & Printing Process: Web site images were produced using a 35mm film scanner or digital camera. The scanner is capable of producing resolutions up to 11 megapixels from slides or negatives. While the scanner is capable of producing highly detailed images, those appearing on the site have been considerably reduced in size and stored in compressed file formats. As a result, actual prints look sharper and nicer than the images on the site (this comment is applicable to the older galleries that were created before I learned about digital photo sharpening. The newer gallery photos should look just fine on your monitor).
My current digital camera is a 5mp, Olympus c-5050 zoom.
Printed enlargements are made from high resolution, digital images. For example, slides are film-scanned at high resolution and the resulting digital files are printed. Digital camera files are adjusted, if necessary, and then printed. I was initially skeptical about this process but the prints of these digital images were coming out great and my experience with the digital camera has been liberating. As an aside, published materials like magazines and newspapers almost exclusively use digital image files to create their products.
Using digital images allows for adjustments of color, contrast and other parameters that enable the photographer/artist to present an image that more accurately represents the natural scene. Rapid advances in digital camera technology will soon make film (and the resulting need to convert film to digital format) obsolete (see the new 11 megapixel Canon 1ds & 14 megapixel Kodak 14n).
EPSON UltraChrome Lightfastness
(copied from Epson.com on 1/28)
EPSON UltraChrome Ink technology will become a new standard in the wide format market for a broad range of applications from proofing to photography and fine art.
Data from Wilhelm Imaging Research, Inc. indicates that the lightfastness of color UltraChrome prints made on the Epson Stylus Pro 7600 and 9600 printers is rated up to 82 years under glass, on specific Epson media. The data also indicates the lightfastness of black and white UltraChrome prints using 7-color mode is rated at over 100 years under glass on specific media.**
**Ink lightfastness rating based on accelerated testing of prints on specialty media, displayed indoors, under glass. Actual print stability will vary according to media, printed image, display conditions, light intensity, humidity, and atmospheric conditions. Epson does not guarantee longevity of prints. For maximum print life, display all prints under glass or lamination or properly store them.
Visit www.wilhelm-research.com for the latest information.
EPSON UltraChrome™ Ink Technology
All New 7–Color Pigmented Inking System
– Extremely wide color gamut rivaling even EPSON Photographic Dye™ Inks
– Produces stable, long lasting photographic prints that are of sellable quality
– Preliminary lightfastness ratings up to 100 years in color and over 100 years for black & white photography when displayed under glass*
Enlargements: Enlargements up to 13x19 are printed on photo paper using the new Epson 2200 with Ultrachrome pigment inks. To help put things in perspective, the Epson 2200 is the little brother of the Epson 7600 with an MSRP of $2955.00. These printers are widely regarded as the best on the market. The 7600 and the 2200 basically use the same printing technology with the main difference being that the 7600 can print up to 24 inches wide. Ultrachrome print longevity rivals traditional photo printing techniques (see sidebar). Using my own printer allows for ultimate control of quality thus ensuring the best possible prints.
Lab services are used to produce prints larger than 13x19.
Photographs in the site galleries can be printed in various sizes with the most common sizes being 8x12 matted to 12x16 and 10x15 matted to 16x20. 20x30 prints are also fairly common (we can ship prints but not mats and frames at this size). Photographs of any size can be made to suit your needs, please inquire via the contact us link and we'll respond with more information.
One final note regarding the conversion of slides and negatives to digital files: many consumer photo labs (e.g. any that use the Fuji mini-lab machines) scan customer negatives when film is dropped off for initial processing. The labs then use the digital files to make the prints. This is one reason why it is becoming easier to obtain double prints & picture files on CD.
Adjusting and manipulating digital image files...
300 dpi is widely considered the resolution required to produce professional quality photographic prints. Given this guideline, a digital image that's 2400x3000 pixels would produce a quality 8x10. 2400x3000 is roughly the equivalent of a 7.2 megapixel camera (or equivalent scanned image). Rest assured that you can achieve fabulous enlargements from source images with less resolution through a method called "interpolation" using a variety of available software. In a nutshell, interpolation adds pixels to an image. For example, an 800x1000 image can produce an 8x10 at 100 dpi. The same image file can be interpolated to yield an 8x10 that's 300dpi or 2400x3000 pixels. A few comments on different interpolation methods:
Photoshop's bicubic interpolation is the benchmark that others are measured against (avail in Photoshop, Photoshop Elements, Photoshop LE)

Irfanview is freeware that includes various interpolation options, the best of which is Lanczos. Said to rival Photoshop's bicubic interpolation.

Genuine Fractals by Lizardtech is expensive and is said to be the best.

Fred Miranda (fredmiranda.com) has a number of photoshop plug-ins that have received good feedback in user forums. The Stair Interpolation plug-in is the one used for interpolation.
See related page for more info about image interpolation
See related page for a comparison of interpolation tools
Digital images usually require sharpening. The act of sharpening increases the contrast between different areas of a picture thereby making the image appear more crisp. A number of tools are available including:
Photoshop's unsharp mask filter (Photoshop, Photoshop LE, Photoshop Elements)

fredmiranda.com's Intellisharpen Photoshop action is affordable and has received good feedback in user forums; but I haven't tried it (requires Photoshop).

DC Enhance is free (available in standalone and Photoshop plug-in versions) and includes sharpening (Enhance Details) as well as other functions

Nik Sharpener (Photoshop, Photoshop LE, Photoshop Elements plug-in) has received good feedback; but is expensive (free trial available)

UltrasharpenPro (Photoshop, Photoshop Elements plug-in) is free though I haven't tried it.

Internal camera or internal scanner sharpening functions may reduce the need for sharpening tools
Another commonly needed correction is noise reduction. Users of images from digital cameras will use this more than those using images from scanners.
fredmiranda.com has a noise reduction action for Photoshop

DC Enhance includes a noise reduction function (see above)

Neat Image can also be used to reduce noise. A free trial is available.
Why are most images available in 8x12 & 10x15 sizes?
Most of the gallery photographs were captured using 35mm slide or negative film although I am now using my digital camera with increasing frequency.
The 35mm image area's height to width ratio is roughly 2 to 3. Print dimensions corresponding with a ratio of 2 to 3 will minimize cropping of the image area. For example, using a 2 inch multiplier yields an image size of 4x6 = 2 x (height 2, width 3). Using a 4 or 5 inch multiplier yields prints that are 8"x12" or 10"x15" respectively.
An area processing facility that I used extensively in the past included 8x12 & 10x15 prints among their list of standard sizes (which are more affordable). The 8x12 is matted to 12x16 and the 10x15 is matted to 16x20. Glass is easy to find in the 12x16 and 16x20 sizes and 4 16x20 mats can be cut from a sheet of 32x40 mat board.
We continue offering these standard sizes mostly to keep things simple. We are not constrained to these sizes so feel free to inquire about any size that might meet your needs.
Why aren't some of the photos available as enlargements?
Some of the images have been cropped to odd sizes or are available only in digital form at low resolution. While some of these images are great for screensavers and the site galleries; they may not look nice when printed. For example, a few of the digital images have been electronically merged together to produce panoramic scenes (i.e. Observation Point in Zion, Supai's "Eden" & Bryce Canyon viewpoint). Software used to merge the images doesn't handle large file sizes very well so the image resolution had to be reduced. Take a closer look at the gallery images mentioned. If you look closely, you can see some slight irregularities.
Update as of 1/28/03: I recently acquired some new software which can handle larger file sizes when building panoramic scenes and I have become more adept with editing tools. Feel free to inquire about the photos mentioned above. I also have access to print facilities capable of producing panoramic prints up to a 12 inch height (no limit on length). For example, panoramic cityscape photographs of Kansas City are 12x36 inches and look fantastic.
Why PayPal for credit card processing?
PayPal is easy to use and it's free for you (and competitively priced for us at current volumes). Please contact us via the Contact Us link at the bottom of the page if you prefer to pay by check or money order. You may also pay by credit card over the phone.
Can I use photos for commercial or charitable purposes?
Please direct inquiries regarding commercial or charitable use of site material to

(sorry about the image... I've been getting junk mail). We would be happy to discuss this with you. Designers - we can work with you to meet your customers needs.
Please help us improve
Please don't hesitate to send us your feedback or suggestions. They are always read and appreciated. If you didn't find what you were looking for, let us know and we can try to meet your needs. Thanks for visiting and come again soon.
Acknowledgements
Thanks to Tularosa Communications, Inc. for hosting screensaver files available for download.
America's WonderlandsTM, AmericasWonderlands.comTM
Copyright 2002-2010 K. Venator